AS WITH ALL OF OUR REPLICAS, WE ONLY SELL THE HIGHEST QUALITY PACKAGING. YOU WILL NOT FIND ANY GRAPHIC IMPERFECTIONS AS ALL OF OUR PRODUCTS ARE 100% BRAND-NEW VECTOR-BASED IMAGES…THAT IS TO SAY, WE SIMPLY DON'T RIP OFF OLD LABELS AND PHOTOCOPY THEM! ALL DIMENSIONS, MATERIALS, ETC. ARE SPOT-ON REPLICAS OF THE ORIGINAL. YOU'LL GET THAT WORLD WAR II LOOK WITHOUT THE OBVIOUS AGING THAT A SCANNED-IN IMAGE WILL GIVE YOU.
K-RATION BOXES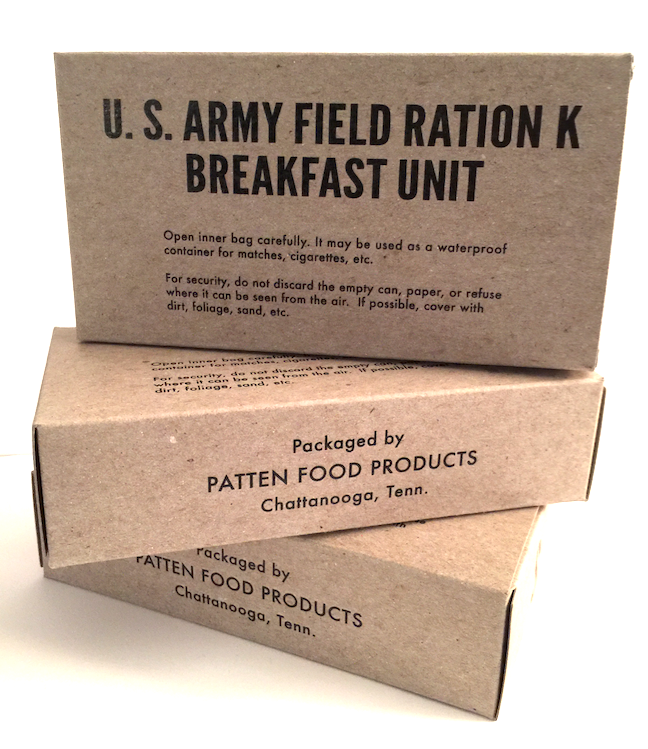 "Mid-war" K-Ration Boxes
Here they are! Our brand new reproduction K-Rations are finally available. Over the years, WWII Supply Room has been known for producing the best reproduction K-Ration boxes. Our newest run is not only the best replica we have ever produced, but is without a doubt the highest quality reproduction ever brought to market.
Features:
• Letterpress printed on exacting weight & grain chipboard.
• Exact dimensions and feature appropriate "notched" side flaps that "lock" boxes shut.
• Custom rendered type that replicates original Patten Food Co. boxes exactly…we are the only replicators to go to this level of detail!
• Exact text placement and dimensions—these boxes are clones!
Each $16.00 set of K-Ration boxes includes SIX boxes, not THREE unlike many of our competitors offer. $16.00 buys you a full days meal Breakfast, Dinner and Supper boxes as well as liners to fit each. Note that liners, photographed below, feature appropriate "square" end flaps like originals.
PROUDLY PRINTED IN UPSTATE, N.Y., U.S.A. BY A GENERATIONS-OLD FAMILY MANUFACTURER.
$16.00
---
NEED K-RATIONS IN BULK?
If you need a half-crate's worth, save by purchasing 6 sets at $14.00/set.
$84.00/6 sets
Need to fill an entire crate? Save by purchasing 12 sets at $12.00/set.
$144.00/12 sets