AS WITH ALL OF OUR REPLICAS, WE ONLY SELL THE HIGHEST QUALITY PACKAGING. YOU WILL NOT FIND ANY GRAPHIC IMPERFECTIONS AS ALL OF OUR PRODUCTS ARE 100% BRAND-NEW VECTOR-BASED IMAGES…THAT IS TO SAY, WE SIMPLY DON'T RIP OFF OLD LABELS AND PHOTOCOPY THEM! ALL DIMENSIONS, MATERIALS, ETC. ARE SPOT-ON REPLICAS OF THE ORIGINAL. YOU'LL GET THAT WORLD WAR II LOOK WITHOUT THE OBVIOUS AGING THAT A SCANNED-IN IMAGE WILL GIVE YOU.
Airborne First Aid Packets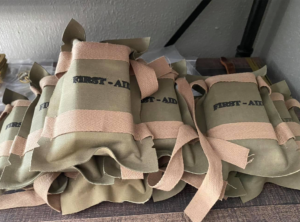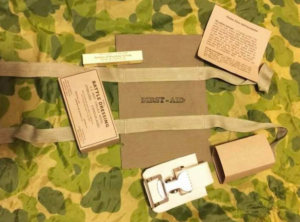 Famously worn by Paratroopers as well as D-Day first wave invasion troops such as the 1st, 4th, 29th and Rangers, our limited run replica Airborne First Aid Packets are currently available. Made from original khaki-drab rubberized canvas like the original packets, there come completely filled to spec. Sealed inside the packet is a replica field dressing box (with bandage inside), a morphine syrette filled display box, a web tourniquet and the paper instruction card.
OUT OF STOCK
---
[wpcol_1half id="" class="" style=""]
Frazer's Solution Bottle – Chase Chemical
Outstanding replica of perhaps the rarest component for the M2 Jungle First Aid Kit. Uses a real, New Old Stock Duraglas 1 oz. bottle with professionally printed reproduction label. Fits perfectly into the Jungle First Aid pouch…limited supply!
$24.99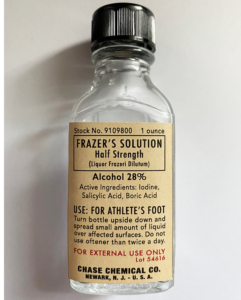 [wp_cart:Frazers Solution Chase Chemical Bottle:price:$24.99:end]
[/wpcol_1half] [wpcol_1half_end id="" class="" style=""]
Frazer's Solution Bottle – Joubert Cie, Inc.
Outstanding replica of perhaps the rarest component for the M2 Jungle First Aid Kit. Same as above, but with a different manufacturer label. Uses a real, New Old Stock Duraglas 1 oz. bottle with professionally printed reproduction label. Fits perfectly into the Jungle First Aid pouch…limited supply!
$24.99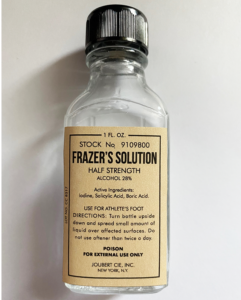 OUT OF STOCK
[/wpcol_1half_end]
[wpcol_1half id="" class="" style=""]
Skat Mosquito Repellent 1 Oz. Bottle
Outstanding replica of the smaller 1 oz. Skat Mosquito Repellent bottle, as issued in the M1 Jungle First Aid Kit. Uses a real, New Old Stock Duraglas 1 oz. bottle with professionally printed reproduction label. Fits perfectly into the Jungle First Aid pouch…limited supply!
$24.99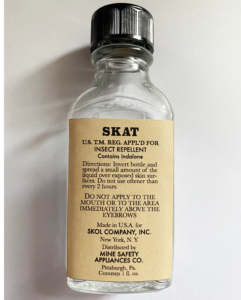 OUT OF STOCK
[/wpcol_1half] [wpcol_1half_end id="" class="" style=""]
Wound Tablet – Lederle Mfg.
Outstanding replica of a scare and underrepresented item in the hobby. The newly patterned wound tablets are printed on a heavy butcher stock and feature an exact dimension filler to replicate the pill case that would have been within. Carried alongside the Carlisle bandage in the M1924/42 First Aid Pouch as well as in the M2 Jungle First Aid Kit. Lederle mfg. variation.
$5.00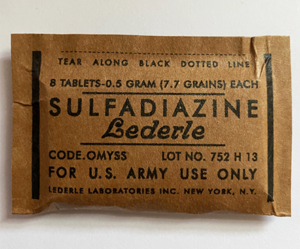 [wp_cart:Wound Tablet Lederle:price:$5.00:end]
[/wpcol_1half_end]
[wpcol_1half id="" class="" style=""]
Wound Tablet – Upjohn Mfg.
Outstanding replica of a scare and underrepresented item in the hobby. The newly patterned wound tablets are printed on a heavy butcher stock and feature an exact dimension filler to replicate the pill case that would have been within. Carried alongside the Carlisle bandage in the M1924/42 First Aid Pouch as well as in the M2 Jungle First Aid Kit. Upjohn Mfg. variation.
$5.00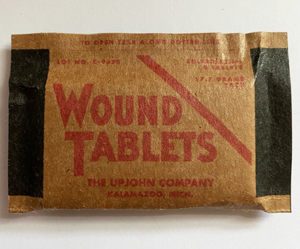 [wp_cart:Wound Tablet Upjohn:price:$5.00:end]
[/wpcol_1half] [wpcol_1half_end id="" class="" style=""]
Wound Tablet – Anacin Mfg.
Outstanding replica of a scare and underrepresented item in the hobby. The newly patterned wound tablets are printed on a heavy butcher stock and feature an exact dimension filler to replicate the pill case that would have been within. Carried alongside the Carlisle bandage in the M1924/42 First Aid Pouch as well as in the M2 Jungle First Aid Kit. Anacin Mfg. variation.
$5.00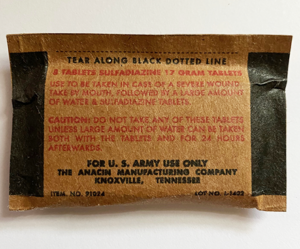 [wp_cart:Wound Tablet Anacin:price:$5.00:end]
[/wpcol_1half_end]
[wpcol_1half id="" class="" style=""]
M2 JUNGLE FIRST AID POUCH IODINE VIAL (Early-War Contract)
Outstanding replica of a very scarce item. Complete your M2 Jungle first aid pouch contents without breaking the bank! Made from hardwood to replicate the two-piece wooden protective vial of the original item. Includes simulated twine "rip-string" around the middle, per original opening method. Mult-aply Mfg. variation.
$6.00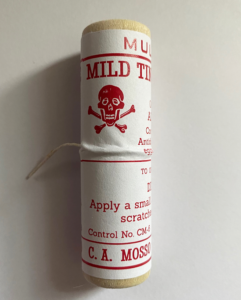 [wp_cart:M2 Jungle Iodine Vial Early Multaply:price:$6.00:end]
[/wpcol_1half] [wpcol_1half_end id="" class="" style=""]
M2 JUNGLE FIRST AID POUCH IODINE VIAL (Mid-War Contract)
Outstanding replica of a very scarce item. Complete your M2 Jungle first aid pouch contents without breaking the bank! Made from hardwood to replicate the two-piece wooden protective vial of the original item. Davis Mfg. variation.
$6.00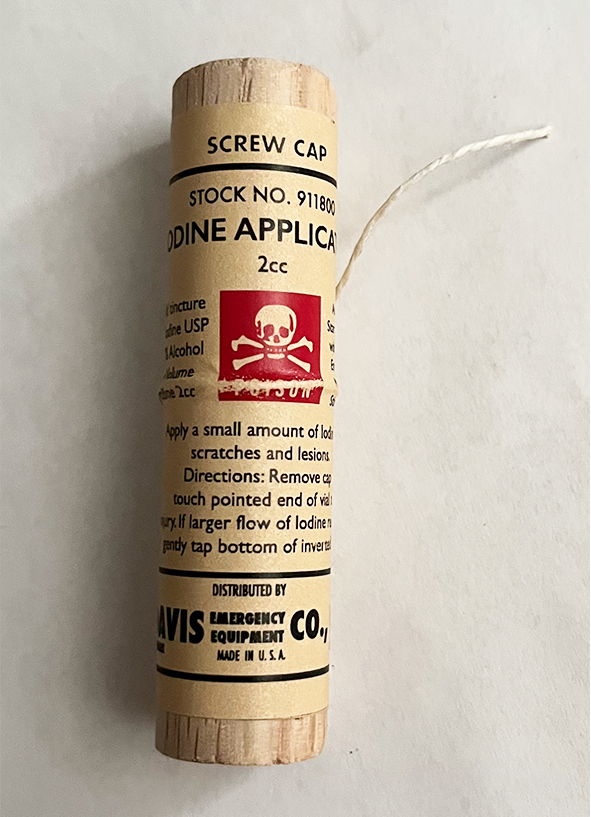 [wp_cart:M2 Jungle Iodine Vial Midwar Davis:price:$6.00:end]
[/wpcol_1half_end]
[wpcol_1half id="" class="" style=""]
BENZEDRINE SULFATE BOX
Replica cardboard package. Block filled for structure.
$5.00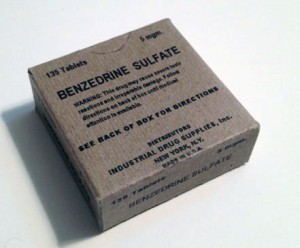 [wp_cart:Benzedrine Sulfate Box:price:$5.00:end]
[/wpcol_1half] [wpcol_1half_end id="" class="" style=""]
BURN INJURY SET BOX
Replica cardboard package. Block filled for structure.
$5.00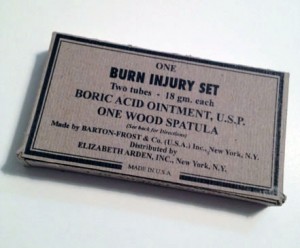 [wp_cart:Burn Injury Box:price:$5.00:end]
[/wpcol_1half_end]
[wpcol_1half id="" class="" style=""]
CARLISLE BANDAGE BOX
Replica cardboard package. Can fit in 1910/1924/1942 First Aid Pouch Block filled for structure.
$5.00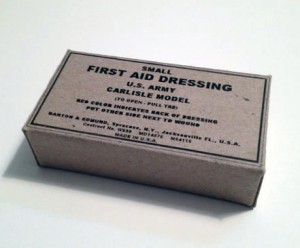 [wp_cart:Carlisle Bandage Box (small):price:$5.00:end]
[/wpcol_1half] [wpcol_1half_end id="" class="" style=""]
EYE DROPPER BOTTLE BOX
Replica cardboard package. Block filled for structure.
$4.00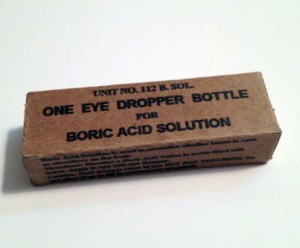 [wp_cart:Eye Dropper Box:price:$4.00:end]
[/wpcol_1half_end]
[wpcol_1half id="" class="" style=""]
EYEPADS BOX
Replica cardboard package. Block filled for structure.
$5.00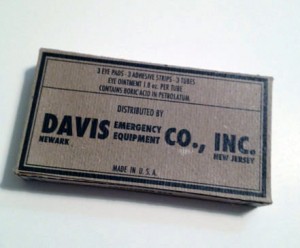 [wp_cart:Eyepads Box:price:$5.00:end]
[/wpcol_1half] [wpcol_1half_end id="" class="" style=""]
FOOTPOWDER BOX
Replica cardboard package. Block filled for structure.
$5.00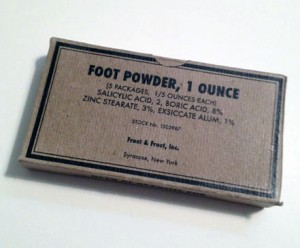 [wp_cart:Footpowder Box:price:$5.00:end]
[/wpcol_1half_end]
[wpcol_1half id="" class="" style=""]
GAUZE BOX
Replica cardboard package. Block filled for structure.
$5.00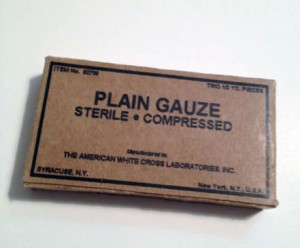 [wp_cart:Plain Gauze Box:price:$5.00:end]
[/wpcol_1half] [wpcol_1half_end id="" class="" style=""]
IODINE SWAB BOX
Replica cardboard package. Block filled for structure.
$4.00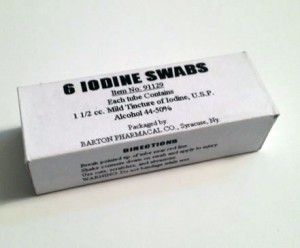 [wp_cart:Iodine Box:price:$4.00:end]
[/wpcol_1half_end]
[wpcol_1half id="" class="" style=""]
Morphine Syrette Box
Replica cardboard package. Proper light-yellow colors. Block filled for structure.
$4.00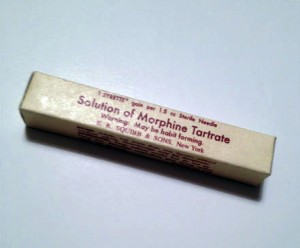 [wp_cart:Morphine Syrette Box:price:$4.00:end]
[/wpcol_1half] [wpcol_1half_end id="" class="" style=""]
MOTION SICKNESS TABLET BOX
Replica cardboard package. Comes in yellow, white or natural stock. All are correct variants. These were famously issued before D-Day. Block filled for structure.
$5.00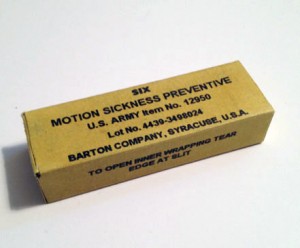 [wp_cart:Motion Sickness Box:price:$5.00:end]
[/wpcol_1half_end]
[wpcol_1half id="" class="" style=""]
SULFANILAMIDE BOX
Replica cardboard package. Block filled for structure.
$5.00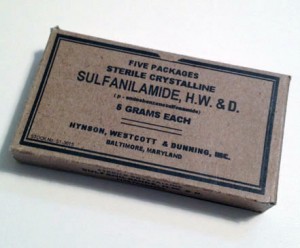 [wp_cart:Sulfanilamide Box:price:$5.00:end]
[/wpcol_1half] [wpcol_1half_end id="" class="" style=""]
GREEN OAKS SAFETY PINS
Replica cardboard packaging with steel safety pins.
$5.00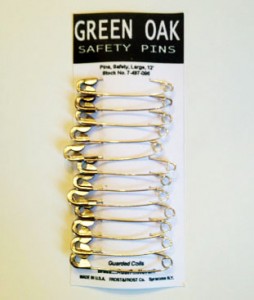 [wp_cart:Green Oaks Safety Pins:price:$5.00:end]
[/wpcol_1half_end]
[wpcol_1half id="" class="" style=""]
Triangular Bandage
Replica cardboard package. Block filled for structure.
$5.00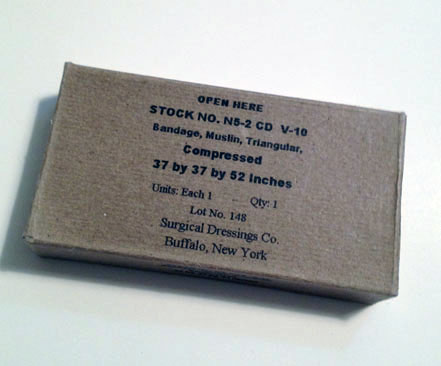 [wp_cart:Triangular Bandage:price:$5.00:end]
[/wpcol_1half] [wpcol_1half_end id="" class="" style=""]
[wpcol_1half_end id="" class="" style=""]
AMERICAN SAFETY PINS
Replica cardboard packaging with steel safety pins.
$5.00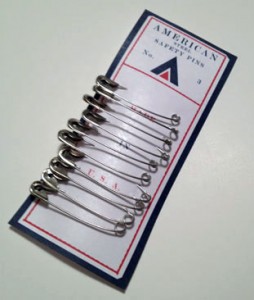 [wp_cart:American Safety Pins:price:$5.00:end]
[/wpcol_1half_end]
[wpcol_1half id="" class="" style=""]
TOURNIQUET BOX
Your requests have finally been answered! We sourced a great original Tourniquet box, and we are now bringing them to you.Replica cardboard package. Block filled for structure.
$5.00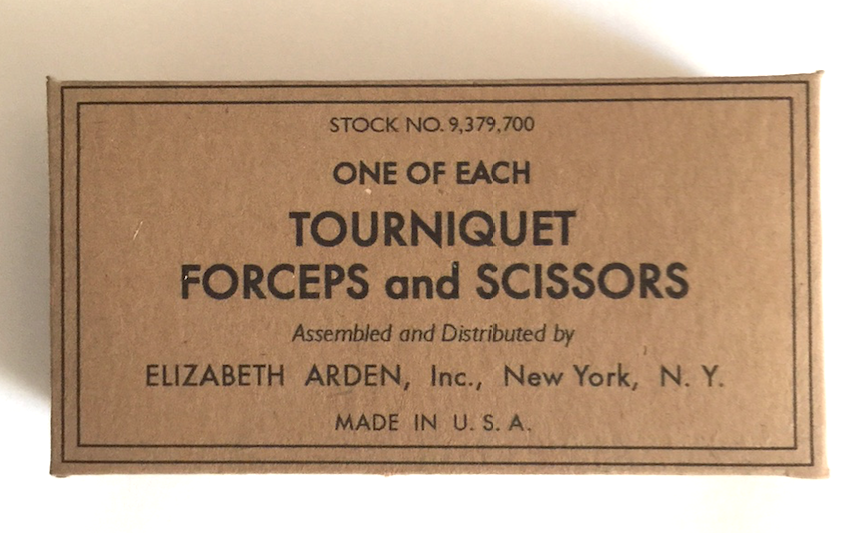 [wp_cart:Tourniquet Forceps and Scissors Box:price:$5.00:end]
[/wpcol_1half] [wpcol_1half_end id="" class="" style=""]
M5 Gas Mask Ointment Kit
For the first time, these incredibly rare items are now being reproduced for D-Day enthusiasts, museum displays and living historians. The M5 mask was packed with these two ointments (M4 and BAL) that are scarcely found today, and are an essential piece to an authentic gas mask display. 
$10.00/set of M4 Protective Ointment & BAL Ointment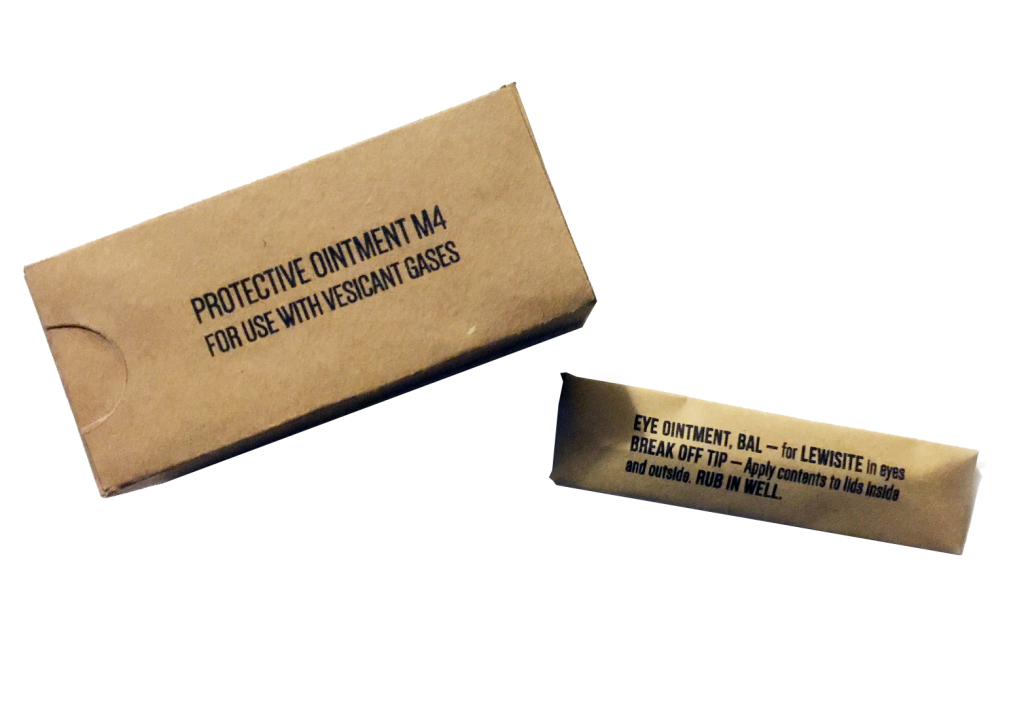 [wp_cart:D-Day Ointment Set:price:$10.00:end]
[/wpcol_1half_end]
[wpcol_1half id="" class="" style=""]
Insect Repellent Label for 2 oz. Bottle Restoration
Professionally printed label on white stock for restoration of the larger Insect Repellent Bottle as carried in the M2 Jungle First Aid Pouch. Price is for label only, no bottle is included.
$8.00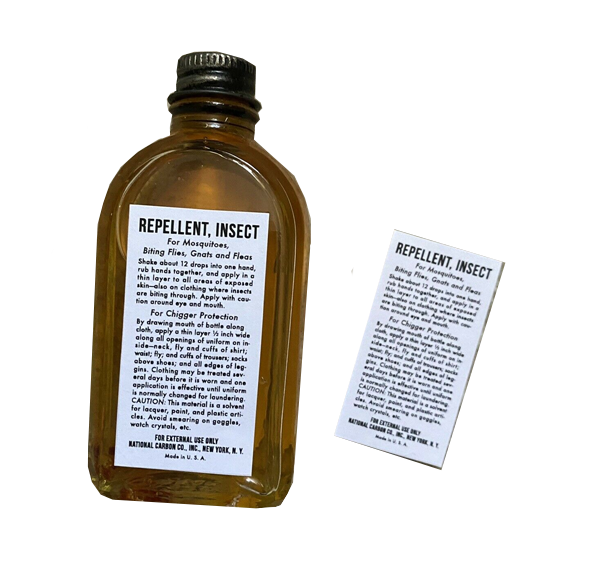 [wp_cart:Insect Repellent Label:price:$8.00:end]
[/wpcol_1half] [wpcol_1half_end id="" class="" style=""]
Atabrine Vial Label (Green & Co.) for Pill Vial Restoration
Professionally printed label on natural stock for restoration of the Atabrine pill vial as carried in the M2 Jungle First Aid Pouch. Price is for label only, no vial is included. This smaller Green & Co. produced label sticks directly to one side of the vial.
$8.00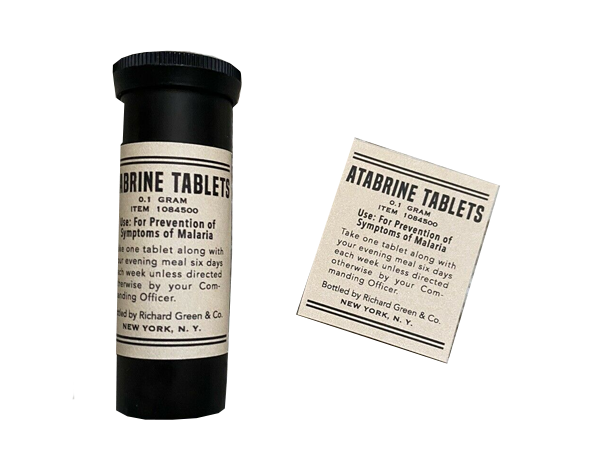 [wp_cart:Atabrine Vial Label Green Co Small:price:$8.00:end]
[/wpcol_1half_end]
[wpcol_1half id="" class="" style=""]
[/wpcol_1half] [wpcol_1half_end id="" class="" style=""]
[/wpcol_1half_end]
[wpcol_1half id="" class="" style=""]
[/wpcol_1half]